[ Emily Brontë - James Whistler - Gustav Holst ]
Case Study: James Whistler
Whistler was born in Lowell, Massachusetts in the United States. His father, George Washington Whistler, was invited to Russia in 1842 to build a railroad, and James learned French in school while there.
Whistler is best known for the nearly monochromatic full-length figure titled Arrangement in Gray and Black: Portrait of the Artist's Mother, but usually referred to as Whistler's Mother. The painting was later purchased by the French government. Though American, Whistler lived and worked mainly in Britain and France. Whistler's painting The White Girl (1862) caused controversy when exhibited in London and, later, at the Salon des Refusés in Paris. The painting epitomizes his theory that art should essentially be concerned with the beautiful arrangement of colors in harmony, not with the accurate portrayal of the natural world.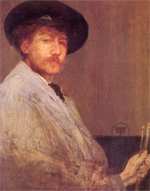 Whistler's lover and model for The White Girl, Joanna Hiffernan, also posed for Gustave Courbet. Historians speculate that Courbet's erotic painting of her as L'Origine du monde led to the breakup of the friendship between Whistler and Courbet.
In 1878 Whistler sued the critic John Ruskin for libel after the critic condemned his painting Nocturne in Black and Gold: The Falling Rocket. The cost of the case, together with huge debts from building his residence, "The White House" in Tite Street, Chelsea, bankrupted him.
A trip to Venice in 1880 to create a series of etchings not only reinvigorated Whistler's finances, but also re-energized the way in which artists and photographers interpreted the city. Once, after he had suffered a heart attack, a Dutch newspaper incorrectly reported Whistler dead. He wrote to the newspaper, saying that reading his own obituary induced a "tender glow of health". Whistler's belief that art should concentrate on the arrangement of colors led many critics to see his work as a precursor of abstract art.
He died on July 17th 1903 at 74 Cheyne Walk in Chelsea, and is buried at St Nicholas's Church in Chiswick, London.
James Whistler's Death Record

James Whistler's death record can be found the the Jul-Sep 1903 records. I am certain that this is him, as his full name was James Abbott McNeill Whistler, and he died in Chelsea.