[ Emily Brontë - James Whistler - Gustav Holst ]
Case Study: Gustav Holst
He was born in 1874 in Cheltenham, Gloucestershire, England to a family of Swedish extraction (by way of Latvia and Russia), and was educated at Cheltenham Grammar School for Boys. As a frail child whose early recollections were musical, Holst had been taught to play piano and violin, and began composing when he was about twelve. He also went on to play the trombone, as he had to give up the piano due to a nerve condition that affected the movement of his right hand.
He attended the newly relocated Royal College of Music in London on a scholarship, studying with Charles V. Stanford, and there in 1895, he met fellow student and lifelong friend Ralph Vaughan Williams, whose own music was, for the most part, quite different from Holst's, but whose praise for his work was abundant.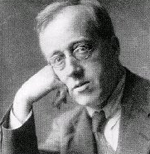 To earn a living in the era before he had a satisfactory income from his compositions, he played the trombone in the Carl Rosa Opera Company and in a popular orchestra called the 'White Viennese Band', conducted by Stanislas Wurm.
In 1905, Holst was appointed Director of Music at St Paul's Girls' School in Hammersmith, London, where he composed the successful and still popular St Paul's Suite for the school orchestra in 1913. In 1907, Holst also became director of music at Morley College. Those two leadership positions were the most important of his teaching posts, and he retained both posts until the end of his life.
Holst and wife Isobel bought a cottage in Thaxted, Essex and, surrounded by medieval buildings and ample rambling opportunities, he started work on the suite that would become his best known work, the orchestral suite, The Planets. It was meant to be a series of 'mood pictures' rather than anything concretely connected with astrology or astronomy. The work was finished in 1916.
In wartime England, Holst was persuaded to drop the 'von' from his name, as it aroused suspicion. His new music, however, was readily received, as 'patriotic' and English music was demanded at concert halls, partly due to a ban on all 'Teutonic' music. During the years 1920 – 1923, Holst's popularity grew through the success of The Planets, and became a famous English composer. He hated publicity – he often refused to answer questions posed by the press, and when asked for his autograph, handed out prepared cards that read, "I do not hand out my autograph".
Always a frail man, after a collapse in 1923 he retired from teaching to devote the remainder of his life to his composition. In his final 4 years, Holst grew ill with stomach problems. He died of complications following stomach surgery on May 25, 1934.
Gustav Holst's Death Record

Gustav Holst's death record can be found in the Apr-Jun 1934 records. I am certain that this is the correct record, as he was 59 when he died in 1934.